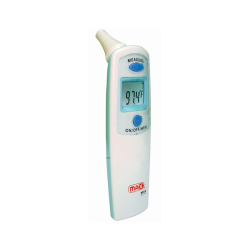 Model: MX4 Active Infrared Ear Thermometer
Display: Liquid Crystal Display (19 x 15 mm)
Measuring range: 32.0˚C ~ 42.9˚C (89.6˚F ~ 109.2˚F)
Accuracy (Laboratory Error): ± 0.2˚C 35.5˚C to 42.9˚C (95.7˚F to 107.6˚F)
± 0.3˚C <35.5˚C or >42.0˚C (<95.7˚F or >107.6˚F)
Suitable for Adults and Children
Memory: 10 sets
Power source: One 3.0 V (CR2032) Lithium battery
Working voltage: 3.4V ~ 2.7V
Operating temperature: 16.0˚C ~ 40.0˚C
Dimension: 122.0 x 35.5 x 37.0 (mm)
MX4 Active Infrared Ear Thermometer has been designed with advanced infrared technology.
Due to the sensitive infrared sensor and advanced calibrating process, it can reach accurate ear temperature instantly.
Ear temperature is the most accurate in representing the core body temperature of the entire body.
The ear drum is located near the hypothalamus, the body temperature controlling center of the brain.
Probe Covers Available: 40 Pieces Per Box .


Related Products