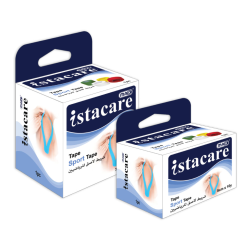 Athletic taping is the process of applying tape directly to the skin in order to maintain a stable position of bones and muscles during athletic activity. It is a procedure that uses tape, attached to the skin, to physically keep in place muscles or bones at a certain position. This reduces pain and aids recovery. Taping is usually used to help recover from overuse and other injuries.
Size: 5cm x 10y, 7.5cm x 10y… etc.
color: White, Green, Red, Yellow & Blue.


Related Products