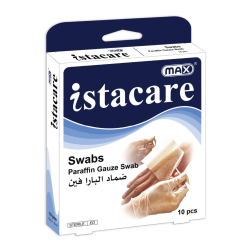 Non-medicated, paraffin-impregnated disposable sterile gauze pads.
Ideal for use with antiseptic or other topical agents.
Soft, medical grade paraffin soothes and protects the wound.
It has low adhesion, low adherent quality which makes it extremely comfortable to use on deepabrasions and open wounds.
Open weave base fabric allows the wound to drain freely into an absorbent secondary dressing.
It is a non-shedding, non-absorbent dressing and it's semi transparency makes the observation of the wound site very easy.
The gauze has interlocking threads which minimize frying when the dressing is cut to shape.
Paraffin gauze is suitable for use in the first aid management of minor burns & superficial wounds.
Size: 5 x 5cm, 7.5 x 7.5cm, 10 x 10cm… etc.


Related Products